Church Technology Services
How we help churches
We partnership with churches to create affordable solutions to help churches overcome technical challenges in the following areas:
Live Streaming – Churches no longer have to pay for monthly streaming services.
Audio Editing – Provide Churches with training on how to edit audio files for use in creating CDs and downloadable MP3s.
Video Editing – Provide training on how to edit video files for the use in creating DVDs and downloadable MP4s
Website Design – Create responsive websites with membership, event registration, calender, gallery and online store capabilities. Allownig churches to sell their CDs, DVDs, and downloadable products.
Indoor Digital Display Boards – Churches can now display important information about future events to members on indoor display boards that have, streaming capabilities.
All-in-one Worship-2-Go – A media library kick that performs mulitple functions from security cam to live streaming. This is our customized church product, design to save churches money by having one product that has the capability to perform multiple tasks.

Click here to learn more about Worship-2-Go

.
Our goal is to help churches with their technology needs and resources. We only focus on solutions and improvements that we are sure will significantly help your church. You'll never have to worry about bloated services that require you to purchase something you really don't need. Our solutions are designed to help your church grow and rise to your expectations.
How we have helped Shiloh Missionary Baptist Church

Shiloh Missionary Baptist Church is a small church located in Snellville, GA. Like most churches, they understood the value of using technology to help spread the word of God, but had limited resources and could not afford expensive reoccurring services. They wanted a way to share the teachings of the Bible and church beyond the walls of their church but didn't know how to do this or what was actually needed. We shared our findings and provided them with honest and accurate information to make an informed decision. It's important to us that churches have an understanding of the technology, what it does, and how it can help. We want our clients to make a decision that's best for them and that requires honest and accurate information.
After reading the analysis and asking questions, Shiloh Missionary Baptist Church made the decision that Live Streaming and Security Camera Capablities were the most important. So we recommended our Worship-2-Go Kit that has this capability as one of it's features. Worship-2-Go was developed based on the needs of the church so we knew that this product would easily handle the Live Streaming and Security Camera needs of the church. Later during the project the church wanted scroll church information on their display monitors. Worship-2-Go was able to fulfill this requirement without extra cost. The church also wanted a place to store the recordings for their live stream. Worship-2-Go fulfill this requirement. They wanted to archive their videos so people could access them through their website. Worship-2-Go was able to fulfill this requirement. The more the church staff learned about Worship-2-Go the more they wanted to with their new capabilities. Eventually their capabilities outgrew their old website's ability to support their efforts. Originally the church was using a ChCMS (Church Management System also known as Church managment Software) to host their website. It didn't take long for the Church to outgrow their old website, as a result they purchase our web design service which allows them to do more with a website. The new website opened many more opportunities to get their message out, increase attendance, and to generate revenue. Shiloh Missionary Baptist Church has the capabilitiy to do things that they assumed were only possible if they were a big mega church.
Below are a couple of before and after pictures from our project.
Old Website
(using ChMS Service)
Click image to see full size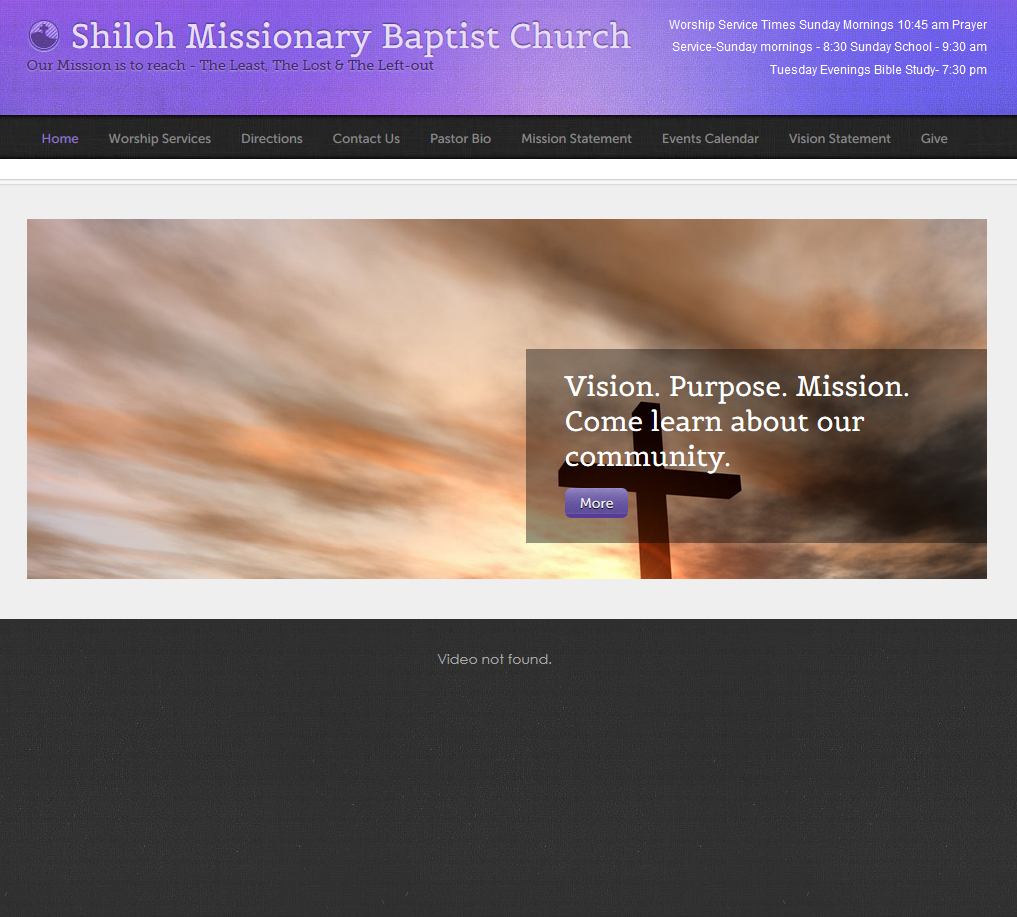 Features and Capabilities:
Google Map of Church Location
Responsive Website Design
New Website
(Designed by CUBS)
Click image to see full size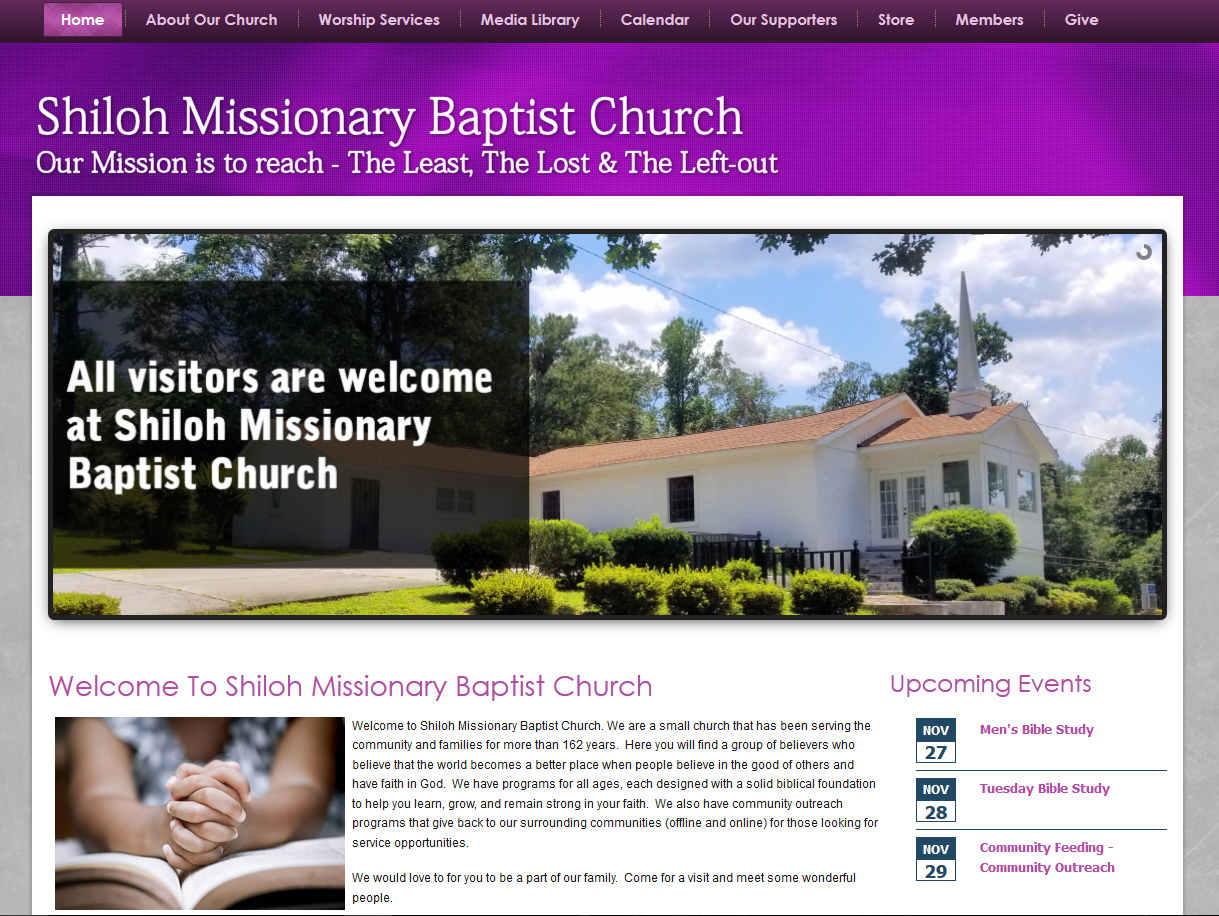 Features and Capabilities
Everything the old website had
and hundreds of other features
Before Worship-2-Go
Standard Church Building for worship equppied with microphones and soundboard
After Worship-2-Go
Digital recording capabilities
Digital Information Displays
Resources to create a technology education program
Remote help and assistance
New Marketing Capabilities
Save money with these tips
Here are a few ways your church can save costs without cutting the investments that the church needs
Important: Many software vendors provide a lower price on their software for non-profit organization. Always check to see if there is a discount for non-profit organization when buying software online.
Website Hosting
Don't use Wix, Weebly, or any other do it yourself website. Many of these companies charge for things that are free other hosting companies. Choose one of the two companies below to host your website.
Hostgator Baby Plan - Hosting that many of our clients use
BlueHost Prime Plan- Important don't use their free domain name offer. Purchase your own domain from Godaddy. You want to own your domain. When the domain is free it means you don't own it.
Email Solutions
Horde (free webmail included with hosting)
Churches can create an unlimited number of email accounts. These accounts can then be accessed via webmail or email client for PC or mobile devices.
Antivirus and Malware Protection
Protecting your computer is crucial but you need more than just an Anti-Virus program. You also need a firewall. AVG, McAfee and Norton are often found in corporate environments due to their reliability. The free anti-virus products will not give you the protection that you need. Below contains a complete computer security package
Malwarebytes - This provides an extra layer of protection. It is often used in addition to the Anti Virus Programs. The free version provides limited protection.
Office Solutions
Microsoft Office Suite: There are a variety of ways to save on Microsoft Office Products. Many companies are now turning to MS Office 365 Subscription Service. But most small businesses don't need it. The problem 365 is that you never own it and that's how this costs adds up. Read more about how to save money on your MS Office Purchase.
Website not attracting customers?
Is your website having difficulty with attracting customers? We can help. Use our website analysis guide to help you understand where the problem lies and how to fix it. You may be surprised to discover that results often show where you can save money, identify if you are being ripped off, and help you understand what it will take to improve website effectiveness.
Technology has you confused? We can make it simple.
Does technology confuse you? Do you wish someone can help you? We have good news for you. We can help. The truth is that technology makes things easier, but unfortunately the people who explain it and the manuals for it, often don't do a good job in explaining it so that it's easy to understand. This is where we come in. We help our customers make sense of some of their technologies.
Client & Website Support, Training, and Special Offers
Did you just purchase a product or service from us? We have your customer support and training needs covered. You are now part of the CUBS consumer family, and as a part of that family, we have some special member only offers from free training to discounts on upgrades and services. We help to make sure you have what you need to succeed.