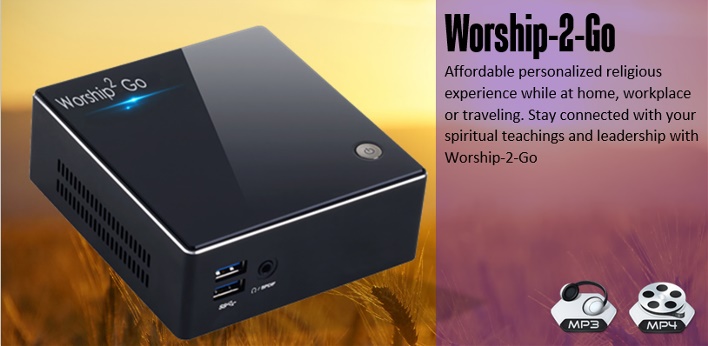 Worship
2

Go

Worship-2-Go provides churches with an alternative to high-priced streaming services. Churches are now able to stream over the local network and the Internet without having to pay for a monthly subscription service. This saves churches hundreds of dollars. Worship-2-Go expands the churches capability to promote church activities and services. Live streaming gives you the capability to connect with more people than traditional T.V. broadcasting options. Worship-2-Go helps to make certain that your voice is heard beyond local, state, and national boundaries. Church members who are too sick, who are in nursing homes, who are on vacation, or who are traveling can still be a part of your church experience with Worship-2-Go.
Features
Streaming
streams audio, video (SD & HD) and image files in their native format or transcoded in real-time

streams content from online sources, like RSS feeds, live audio/video streams (Live Streaming), web page content
Media Management
automatically updates the media library when you add/update/remove a media file or a metadata file

supports RAW camera image
supports video thumbnails, CD covers, DVD posters, etc.
categorizes video files into movie and/or series and marks last viewed episodes of a series
available for Windows, Linux and Mac
Video Archiving
Supported Media Files
Audio

: MP3( .mp3), MP2 (.mp2), Windows Media Audio (.wma), WMA Lossless (.wma), AAC (.m4a), OGG (.ogg, .oga), FLAC (.flac), Apple Lossless ALAC (.mp4), Wawpack (.wv), Musepack (.mpc), Monkey's Audio (.ape), DSF (.dsf), WAV (.wav)
Video:

MPEG-1 (.mpg, .mpeg), MPEG-2 PS (.mpg, .mpeg, vob, mod), MPEG-2 TS (.ts, .m2ts), MPEG-4 (.mp4, m4v, mov), AVI (.avi, .divx), Windows Media Video (.wmv, .asf), Matroska (.mkv), Flash (.flv, .f4v), DVR-MS (.dvr, .dvr-ms), WTV (.wtv), OGG (.ogv, .ogm), 3GP (.3gp, .3g2), RealVideo (.rm, .rmvb)
Image:

JPEG (.jpg, .jpeg), GIF (.gif), PNG (.png), RAW (.arw, .cr2, .crw, .dng, .raf, .raw,. rw2, .mrw, .nef, .nrw, .pef, .srf, .orf)
Inspirational video, music, and image libraries
Create your own media library offering your spiritual and relgious themed content
Live streaming, recordign and management
Live stream and recorded your sermons, classes,and other church activities and save it on your own hard drive for accesibility via LAN or Internet. Perfect for those who may not be able to attend services due to illness or physical limitations.
Mobile device and smartphone friendly
Worship-2-Go was designed to take advantage of the personalization of smartphones, tablets, and laptop computers.
Selectable content at their discretion
Allow your church congregation to choose the sprituatal content they want and when they want it.
Simple and easy to navigate
Enjoy easy navigation with our user friendly user interface that can be viewed with popular web browsers.
Benefits
Usability
plays all your media library content in a web browser. This means there's no need to install an app to view the content.

plays local and online content
uses industry proven security mechanisms so ensure your content is safe
supports multiple qualities so that you can choose the one appropriate for your internet connection speed (if accessed remotely)
utilizes responsive design and is easily usable on smartphones, tablets, laptops and PCs
Scalability - Worship-2-Go can grow as the church grows
Marketing Options
Provides churches with a marketing outlet to promote the church services and programs via church control ads at no additional costs. Promote your own ads.
Website Integration
Your website can embed live feeds as well as provide access to the Worship-2-Go user interface.
Audience Analytics
Social Media Integration
Lower cost than competitors
CUBS Inc. specilizes in alternative technology solutions which means Worship-2-Go costs thousands of dollars less.
No extensive hardware costs
Few parts means fewer replacements and lower costs
High Quality Video on all devices
Provide high quality video and audio over LAN without Internet or mobile bandwidth limitations
Enhanced Advertising for Church Programs and Events
Worship-2-Go software allows you to provide targeted advertisements directly on your congregation's mobile device. Now you can reach your members beyond fliers and provide the advertising that your Church programs need..
Stay ahead of competition
You will gain a competitive edge with Worship-2-Go as it allows you to do many of the things that much Megachurches do without the cost of a big entertainment production project. Excellent for small and medium sized churches looking for affordable alternative solutions to TV productions. Reach more people at a fraction of the cost.
Specifications
Supported Hardware
Servers / Workstations / Desktops
Processor - 2.8 GHz Intel Core i7
RAM - 16G
Hard Drive - 250 GB HDD 7200 rpm
Number USB Ports - Min. 1(BYOC)
Supported Browsers Destops / Laptops
IE7 and above, Chrome, Safari, Firefox
Supported PC Operating Systems
Vista, Windows 7, 8.0, 8.1, 10
Supported Mobile Operating Systems
Androd, Apple, Windows, Kindles, BlackBerries & other devices
Supported Mobile Devices
Android, Apple, Windows, Kindles & Blackberries
Video and Audio
Protocol - Video: MP4 & Audio: ACC

Video Streaming - RTSP
Video Output HDMI
Audio Output - Line level physical connection 3.5mm stereo
Supported Wireless
Cameras Aspect Ratio:
Video - 1080p @ 30fps, 20x Zoom, FoV 60.7 degrees
Audio - 3.5mm Control - GUI,Remote,64Preset