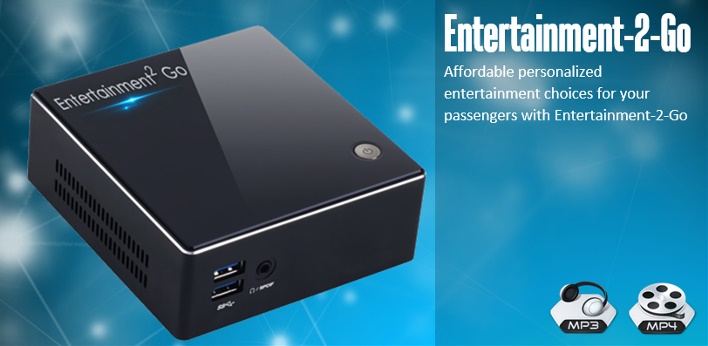 Entertainment
2

Go

Entertainment-2-Go is an innovative media center alternative for passenger busses that replaces out of date DVD players and expensive satellite TV subscription services. Entertainment-2-go modernizes passenger bus entertainment by delivering personalized audio, video, and image entertainment directly to your passengers' mobile devices (smartphone, laptops, and tablets).

Entertainment-2-Go will work with or without an Internet connection giving companies the opportunity to reduce their bandwidth use. This function delivers a more reliable connection and decreases the disconnection problems that are prevalent with Internet connections and moving vehicles.

Market trends reveals that nearly all travelers / passengers are choosing their mobile devices for providing entertainment which helps make Entertainment-2-Go a desirable service offer for your customers. Let Entertainment-2-Go be your competitive advantage.
Features
Streaming
streams audio, video (SD & HD) and image files in their native format or transcoded in real-time

streams content from online sources, like RSS feeds, live audio / video streams, web page content
Media Management
automatically updates the media library when you add/update/remove a media file or a metadata file

supports RAW camera image
supports video thumbnails, CD covers, DVD posters, etc.
categorizes video files into movie and/or series and marks last viewed episodes of a series
available for Windows, Linux and Mac
Supported Media Files
Audio

: MP3( .mp3), MP2 (.mp2), Windows Media Audio (.wma), WMA Lossless (.wma), AAC (.m4a), OGG (.ogg, .oga), FLAC (.flac), Apple Lossless ALAC (.mp4), Wawpack (.wv), Musepack (.mpc), Monkey's Audio (.ape), DSF (.dsf), WAV (.wav)
Video:

MPEG-1 (.mpg, .mpeg), MPEG-2 PS (.mpg, .mpeg, vob, mod), MPEG-2 TS (.ts, .m2ts), MPEG-4 (.mp4, m4v, mov), AVI (.avi, .divx), Windows Media Video (.wmv, .asf), Matroska (.mkv), Flash (.flv, .f4v), DVR-MS (.dvr, .dvr-ms), WTV (.wtv), OGG (.ogv, .ogm), 3GP (.3gp, .3g2), RealVideo (.rm, .rmvb)
Image:

JPEG (.jpg, .jpeg), GIF (.gif), PNG (.png), RAW (.arw, .cr2, .crw, .dng, .raf, .raw,. rw2, .mrw, .nef, .nrw, .pef, .srf, .orf)
Customizable video, music, and image libraries
Create your own media library offering or allow your cusotmers to bring their personalized media content. From team sports play reviews, to tourguide content, to school field trip content and everything in between.
Interfaces with existing bus displays & legacy monitors
While flat display screens provide the best quality, Entertainment-2-Go works with legacy monitors.
Mobile device and smartphone friendly
Entertainment-2-Go was designed to take advantage of the personalization of smartphones, tablets, and laptop computers.
Passenger select entertainment at their discretion simultaneously
Your customers get to choose the entertainment they want and when they want it. Children can select appropriate entertainment for them and adults can access entertainment that fits them as defined by ratings.
Simple and easy to navigate
Enjoy easy navigation with our user friendly user interface that can be viewed with popular web browsers.
Benefits
Usability
plays all your media library content in a web browser. This means there's no need to install an app to view the content.

plays local and online content.
uses industry proven security mechanisms so ensure your content is safe.
supports multiple qualities so that you can choose the one appropriate for your internet connection speed (if accessed remotely).
utilizes responsive design and is easily usable on smartphone, tablets, and laptops.
Customizable video, music, and image libraries
Create your own media library to offer to your passengers or allow them to bring their own video, audio, and image.

Scalable media storage size allows you to store as much content as you want.
Lower cost than competitors
You own it which means you can still use it even when you no longer have a subscription with us.
No extensive hardware costs
Unlike other options that require LCD to be placed into the headrest of the seat. We utilize your passengers smart devices which means means fewer replacements and lower costs
Fast return on investment
Lower costs also means that you'll see a faster increase in revenue and as a result you'll experience a faster return on you investement in as little as 2 months.
New revenue streams
Entertainment-2-Go software allows you to provide targeted advertisements directly on your customer's mobile device. Now you can make money though companies who want to advertise on your bus without having place ugly signs.

Tablet rentals options become available. You can now rent tablets to groups and individuals who may not own tablets.
Stay ahead of competition
You will gain a competitive edge with Entertainment-2-Go as it enhances passenger a unique entertainment experience while providing your company with the innovation that you'll need to out perform the competion.
Specifications
Supported Hardware
Servers / Workstations /Destops

Processor - 2.8 GHz Intel Core i3
RAM - 8G
Hard Drive - mSATA 250 GB HDD 7200 rpm
Number USB Ports - 2 (Bring your own content)
LAN - 1gps * must be physically connected to switch
Supported Browsers Destops / Laptops
IE7 and above, Chrome, Safari, Firefox
Supported PC Operating Systems
Vista, Windows 7, 8.0, 8.1, 10
Supported Mobile Operating Systems
Androd, Apple, Windows, Kindles, BlackBerries & other devices
Supported Mobile Devices
Android, Apple, Windows, Kindles & Blackberries
Video and Audio
Protocol - Video: MP4 & Audio: ACC

Video Streaming - RTSP
Video Output HDMI
Audio Output - Line level physical connection 3.5mm stereo
Supported Wireless